De la teoría a la práctica: ¿cómo se forman líderes empresariales con valores? Lecciones desde la inspiración ignaciana
José María Guibert Ucín

Universidad de Deusto, España
Palabras clave:
desarrollo de liderazgo, espiritualidad ignaciana, espiritualidad en el trabajo, ética empresarial
Resumen
No basta con tener teorías sobre qué es un buen liderazgo o qué características queremos que tenga una persona líder. Hay que buscar evidencia sobre modelos exitosos de desarrollo de liderazgo. Muchas investigaciones analizan la influencia de lo religioso en el liderazgo, que une el desarrollo moral y espiritual. Esto se nota en áreas como la toma de decisiones, la gestión de personas, la definición de la misión de la organización, la responsabilidad social hacia los distintos afectados, el sentido del trabajo y búsqueda de significado, el cuidado en el desarrollo de carreras profesionales, etc. Siguiendo ejemplos relacionados con la Compañía de Jesús, un ejemplo de un modelo de desarrollo de liderazgo unido a formación en valores debería tener un planteamiento holístico que tiene en cuenta varios pasos: planificación personalizada, experiencias y pruebas, reflexión, evaluación, formación y lecturas, acompañamiento y tutorización.
Recibido: 21 junio 2021
Aceptado: 25 enero 2022
Citas
Arun, C. Joe, Renu, Isidore R. (2021). "Use of Discernment in Effective Decision Making: A Case for Method of Deep Conversation", Journal of Xi'an University Architecture & Technology, XIII (2), pp. 37-47.
Coughlin, Dan. (2018). "The Tremendous Value of Personal Reflection and Discernment", Effective Executive, 21 (4), pp. 7-8.
Creary, Nicholas. (2007). "Ignatian Discernment and Collective Decision Making", Conversations on Jesuit Higher Education, 31 (15), en http://epublications.marquette.edu/conversations/vol31/iss1/15. Accedido el 01/04/2021.
Darmanin, Alfred. (2005). "Ignatian spirituality and leadership in organizations today", Review of Ignatian Spirituality, 109, pp. 1-14.
Dawson, Paschal. (2020). The Relationship between Spiritual Intelligence and Organizational Identification: A Correlational Research Study, disertación doctoral en Walden University, https://scholarworks.waldenu.edu/dissertations.
Delbecq, André L. (2016). "Integrating Spiritual and Managerial Insights Within Senior Executive Teams", in Mata-McMahon, N., Tihana Kovac, T. and Grace Miller, G. (editors), Spirituality: An Interdisciplinary View, Interdisciplinary.Net Press, pp. 32-44, en http://www.inter-disciplinary.net/publishing/product/spirituality-an-interdisciplinary-view/.
Dyck, Bruno. (2014). "God on management: The world's largest religions, the "theological turn," and organization and management theory and practice", Religion and Organization Theory, Vol. 41, pp. 23-62. DOI: https://doi.org/10.1108/S0733-558X20140000041010.
Fernández Fernández, José Luis. (2018). "Management, Liderazgo Ignaciano y Filosofía Moral", Revista Portuguesa de Filosofía, 74 (2/3), pp. 473-508.
Fry, Louis. (2003). "Toward a theory of spiritual leadership", Leadership Quarterly, 14(6), pp. 693-727.
Guibert, J.M. (2016). "Una espiritualidad para el liderazgo: Quién ha de ser líder según Ignacio de Loyola", Boletín de Estudios Económicos 71 (217), pp. 7-24.
Guibert, J.M. (2021). Liderazgo basado en la amistad. Cincuenta recomendaciones ignacianas, Sal Terrae, Santander.
Hanson, Kirk. (2008). "Business Ethics in Action: Jesuit Business School Strategies for Engaging Business Executives", conferencia en 14th Annual World Forum Colleagues in Jesuit Business Education (International Association of Jesuit Business Schools, July 20-23, 2008), https://www.scu.edu/ethics/focus-areas/business-ethics/resources/business-ethics-in-action-jesuit-business-school-/, consultado el 04/04/2021.
Kalscheur, Gregory A. (2006). "Ignatian Spirituality and the Life of the Lawyer: Finding God in All Things – Even in the Ordinary Practice of the Law", Journal of Catholic Legal Studies, 46, pp. 7-28.
Kaltcheva, V. D., Patino, A. D., Winsor, R. D., Graham, C., & Pitta, D. A. (2016). Current and Future Jesuit-Educated Managers' Perceptions of Socially Responsible Business Practices. Jesuit Higher Education: A Journal, 5(1).
Kelly, Moss Breen. (2020). "Ignatian Leadership and the Contemporary Leadership Landscape", Jesuit Higher Education: A Journal, 9 (2), https://epublications.regis.edu/jhe/vol9/iss2/4.
Lecourt, Virginie & Pauchart, Thierry C. (2011). "Ignatian Spirituality & Management: a Study of 'Ignatian Executives'", Journal of International Business Ethics, 4(1), pp. 1-11. http://hdl.handle.net/20.500.12424/190425.
Low, James., Ayoko, Oluremi. (2020). "The Emergence of Spiritual Leader and Leadership in Religion-Based Organizations", Journal of Business Ethics, 161, pp. 513-530. DOI: https://doi.org/10.1007/s10551-018-3954-7.
Martin, David. (2013). An exploratory Study of Personal Spirituality-in-Use In the Workplace Saint Joseph's University, https://www.sju.edu.
Martin, James. (2010). The Jesuit guide to (almost) everything: a spirituality for real life, HarperOne, San Francisco, USA.
Mauri, Afredo., Rashford, Nicholas., Neiva, João. (2019). "Using Ignatian Pedagogy in a Business Policy Course: Experiencie, Reflection, and Action for Strategic Decision Making", en Smith, B. Mission-Driven Approaches in Modern Business Education, IGI Global, Hershey, PA USA. DOI: https://doi.org/10.4018/978-1-5225-4972-7.ch012.
Moberg, Dennis, Calkins, Martin. (2001). "Reflection in business ethics: Insights from St. Ignatius' Spiritual Exercises", Journal of Business Ethics, 33 (3), pp. 257-270.
Nullens, Patrick. (2019). "From Spirituality to Responsible Leadership: Ignatian Discernment and Theory-U", en Kok, Jacobus, Van de Heuvel, Steven (eds.) Leading in a VUCA World. Integrating Leadership, Discernment and Spirituality, Springer, Cham, Switzerland, pp, 185-208. DOI: https://doi.org/10.1007/978-3-319.98884.9_12.
Pavlovich, Kathryn., Corner, Patricia. (2014). "Conscious Enterprise Emergence: Shared Value Creation Through Expanded Conscious Awareness, Journal of Business Ethics, 121, pp. 341-351.
Pontificio Consejo "Justicia y Paz". (2012). La vocación del líder empresarial. Una reflexión. http://www.iustitiaetpax.va/content/dam/giustiziaepace/VBL/Vocacion%20esp_VBL.pdf.
Porter, M., & Kramer, M. (2011). "Creating shared value: How to reinvent capitalism and unleash a wave of innovation and growth", Harvard Businesss Review, 89 (1/2), pp. 63-77.
Reynolds, Tom. (2016). "The AJCU Institutional Examen: A Shared Ignatian Experience", Jesuit Higher Education: A Journal, 5 (1), pp. 102-104, https://epublications.regis.edu/jhe/vol5/iss1/15.
Rothausen, T.J. (2017). "Integrating Leadership Development with Ignatian Spirituality: A Model for Designing a Spiritual Leader Development Practice", Journal of Business Ethics, 145, pp. 811-829.
Scharmer, C.O. (2016). Theory U: leading from the future as it emerges: the social technology of presencies. Berrett-Koehler, San Francisco, CA.
Tilghman-Havens, Jennifer. (2020). "The Ignatian Leader as Global Citizen", Jesuit Higher Education, 9(1), pp. 54-64, https://epublications.regis.edu/jhe.
Trinidad, Jose Eos. (2021). "Dialogue, discernment, and creative tensiones in Jesuit higher education", International Studies in Catholic Education, DOI: https://doi.org/10.1080/19422539.2020.1858638.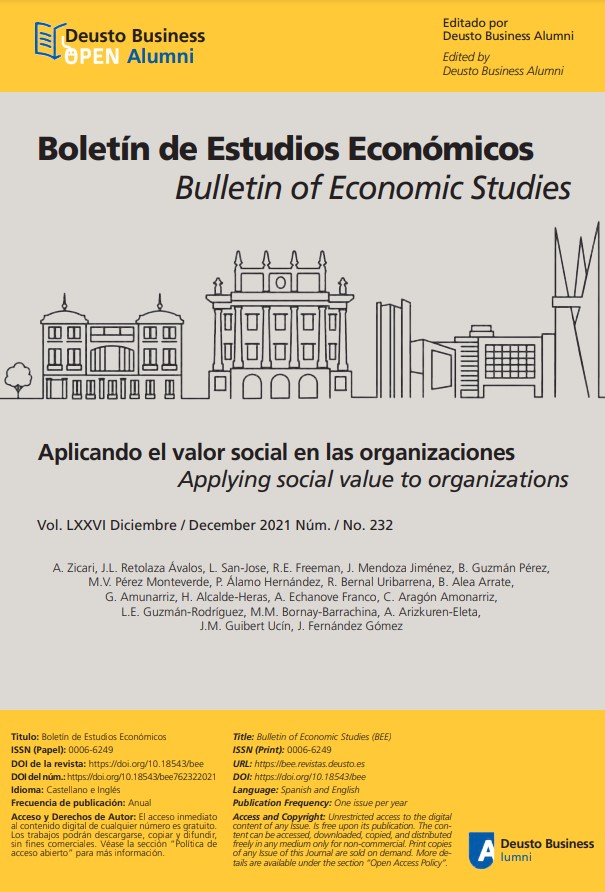 Cómo citar
Guibert Ucín, José María. 2022. «De La teoría a La práctica: ¿cómo Se Forman líderes Empresariales Con Valores? Lecciones Desde La inspiración Ignaciana». Boletín De Estudios Económicos 76 (232), 171-89. https://doi.org/10.18543/bee.2333.
Sección
Autores Invitados
Derechos de autor 2022 Deusto Business Alumni
Esta obra está bajo licencia internacional
Creative Commons Reconocimiento 4.0
.
Cuando los autores envían un artículo para su revisión y publicación, conservan sus derechos de autor, pero aceptan automáticamente conceder los derechos de publicación no exclusivos al BOLETÍN DE ESTUDIOS ECONÓMICOS y aceptan que el artículo se publique bajo una licencia Creative Commons, si el artículo es aceptado para su publicación. Se recomienda a los autores que lean atentamente sus derechos. Creemos que este enfoque garantiza un acuerdo justo para ambas partes. La licencia concedida permite a la revista editar y maquetar el artículo, que se incluirá en un próximo número y se distribuirá en cualquier medio online y offline que la revista considere necesario para promocionar el artículo, los autores y la revista. Este párrafo se incluye en las Directrices para los autores.
Para más información sobre la licencia Creative Commons, visite: https://creativecommons.org.